Local authorities have recalled three deadly spurious liquor brands made by 29 Hanoi Import and Export Joint Stock Company after several people died from consumption, informed the Vietnam Food Administration on December 9.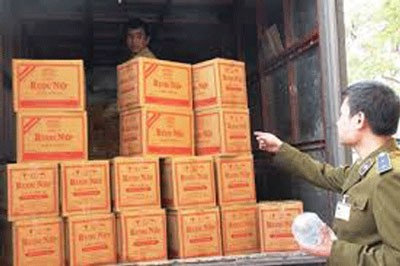 Local authority in Quang Ninh seize cans of sticky rice alcohol (Photo: Tien Phong)
Tests showed that methanol levels in the liquor were much higher than acceptable limits.
Fifteen people in the northern province of Quang Ninh had been hospitalized after drinking the liquor, with six reported deaths.
Local authorities have now seized around 6,000 two liter cans of sticky rice alcohol packaged on October 12.
In Hai Duong Province, relevant agencies checked two wine agents and detected that Hung Thuy on 120 Bach Thi Nang Street still sold two of the deadly spurious liquor brands, which the inspectors seized immediately.
In Hanoi, authorities have ordered the company to freeze production of all liquor and sealed the company warehouse at 29 Vu Xuan Thieu Street in Long Bien District. In the warehouse, there are in stock 371 bottles of liquor including 20 of sparkling red wine, 26 two liter cans of 29 Hanoi sticky rice alcohol, and five cans of sticky rice vodka.

Related articles:
Manufacturer of deadly spurious liquor to be prosecuted
Spurious liquor causes four deaths in Quang Ninh Province