On April 15, the Prime Minister sent an urgent dispatch to municipal and provincial governments across the country to step up preventive measures against the deadly Avian Flu virus, particularly in the event of it entering the country from neighbouring China.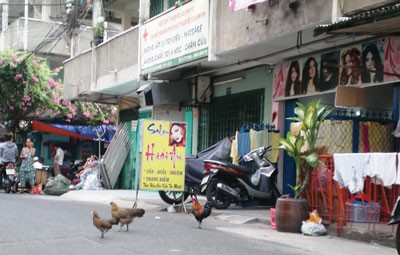 Poultry bred in residential quarter in district 10 in HCMC despite of risk fo avian flu (Photo: SGGP)
Vietnam is facing a high risk of the new strain of the Avian Flu virus spreading from its northern neighbor, China, where the virus has affected 60 people and killed 13 so far. Hence, chairpersons of districts will be held accountable if any resident is caught transporting or selling illicit poultry or water fowl.
Those in charge of containing the virus will face punishment if any case occurs under their jurisdiction. Poultry smuggling from China can be a lead source to spreading of the deadly virus infection.
The Ministries of Health and Agriculture and Rural Development will keep a close watch on H5N1 and H7N9 cases and provide timely warning to people, such as burying infected poultry and enhancing educational campaigns to increase people's awareness of the risk.
The Veterinary Office in Zone 6 had taken samples of dead birds for testing and results showed eight dead swallows infected with H5N1 virus. These swallows had been raised by a company on Thong Nhat Street in Ninh Thuan Province. The cause of death has still not been determined, but 43 samples showed positive for H5N1 Avian Flu virus. 
Phan Rang Town in Ninh Thuan Province has 59 households that breed swallows.