Under its WTO commitments, Vietnam has step-by-step opened its retail market of pharmaceuticals, with foreign companies having the same import and export rights as local counterparts since January 1. Most local companies are confident in facing fiercer competition.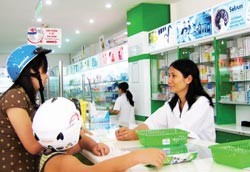 Customers at a pharmacy. Most local companies are confident in facing fiercer competition. (Photo: SGGP) 
Leading firms like Phytopharma, Vimedimex, Sapharco, remain unruffled.
Phan Thanh Lay, general director of Phytopharma, said, "Medicine markets are special markets, so the procedure for medicine import and export is not easy to get through. Therefore, local businesses have an advantage over foreign rivals in that they are familiar with the steps needed to carry out imports and exports of medicines."  
Import rights do not mean distribution rights, therefore distribution continues to remain the 'playing ground' of local companies. But most of them have prepared themselves for a future in which the distribution market is shared with their foreign counterparts.
Local pharmaceutical companies are trying their best to meet standards, such as Good Distribution Practice (GDP) and Good Storage Practice (GSP).
Coduphar has expanded its distribution network, opening many branches in provinces and cities, such as Can Tho, Dak Lak, Quang Ngai and Hai Phong, in order to meet increasing demand for medicine.
Hoang Quoc Tuy, head of market development at the company, said, "We do not fear competition, provided such competition is fair and healthy".
Since Vietnam became a WTO member, the number of foreign-invested pharmaceutical companies has increased. In 2007, it was 370, up from 270 in 2005. Foreign companies account for 50 percent of the pharmaceutical market in Vietnam.
Over the past two years, the price of many imported medicines, for example Vastarel and Diamicron, have gone up.
Most recently, at least three leading providers of medicines have announced their decisions to increase prices by ten percent in well-known, market dominated brands for the treatment of hearts and eyes, for example.
The question of whether or not the opening and liberalization of the medicine market will meet the public's interests, in terms of quality and prices, remains to be answered by agencies concerned.