Hundreds of milk products are displayed at Binh Tay Market, district 6, including milk in nylon bags, in paper containers or in tins. Most of them show indication that they are from Australia, Holland, New Zealand and China but packaged in Ho Chi Minh City. But shop keepers said that contents depend on dairy makers.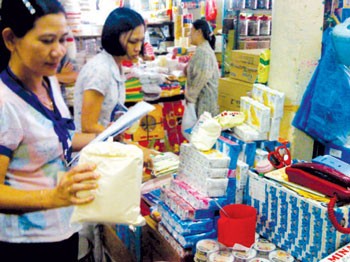 Milk in nylon bags, without nutritional information, on sale at Binh Tay Market, district 6 (Photo: SGGP)
At a shop, Ty Loan, in the market, various kinds of milks, from full-fat to cream milk and famous milks, like Dutch Lady and Abbott, are sold in nylon bags. Because the nutrition content of milk is given by dairy producers, some milks give no protein content information.
For instance, a 500 gram full-cream milk powder for one year olds, the elderly and pregnant women, packaged by Phuoc Tai Co., has no percentage of protein content. In other stores, powdered milks in paper containers give protein content ranging from 10 – 15 percent or 15 -20 percent.
Milk protein content varies from 25 -30 percent but it is milk dregs, with a content of one to ten percent which concerns agencies.
Low milk protein content destroys customers' health. Dr. Do Viet Ha said that several milks have a low protein content because producers add other substances, like stimulants for height and brains for example.
Milk serves as one of the best sources of proteins and this can be attributed to its rich, quality protein content. Protein in milk contains all the essential amino acids that the body requires.
Dr. Nguyen Xuan Mai, from the Ho Chi Minh City-based Institute of Hygiene and Public Health, said that a general formula is to mix powdered milk, dried whey dregs and sugar. But dried whey dregs have a very low in protein and are used in sweets and animal feed. However, some unscrupulous makers still produce milk for children using this formula.
Dr. Do Thi Ngoc Diep, from the Nutritious Center for children, reacted angrily to lower protein content than shown, fearing such milk destroy children's growth.
Vietnamese Health Minister Nguyen Quoc Trieu on February 11 reported on low quality milk and milk products to the Prime Minister Nguyen, Tan Dung, as a response to rumors that the Ho Chi Minh City Department of Health (DoH) and Vietnam Food Administration(VFA) hushed up the problem.
The Minister explained that the agencies did not cover the matter and petitioned the Prime Minister to instruct the Ministry of Trade and Industry and relevant ministries and agencies to implement proactive measures against poor quality milk products and their producers.
Dr. Nguyen Cong Khan, head of the Department of Food Hygiene and Safety, said that the DoH has handed out penalties to fraudulent dairy makers. DoH on February 11 also sent an urgent dispatch to the Department of Trade and Industry, as well as people's committees in various districts, to ask for tighter regulations on food products, especially milk-related products.
Related articles:
Several milk makers lie about protein content: Ministry
Poor milk quality raises public concern