Health and agriculture officials met in Hanoi on December 24 to discuss food safety and hygiene in the lead-up to the Tet Lunar New Year.
Representatives from the Ministry of Health, the Ministry of Agriculture and Rural Development, Ha Noi People's Committee and other agencies attended the meeting.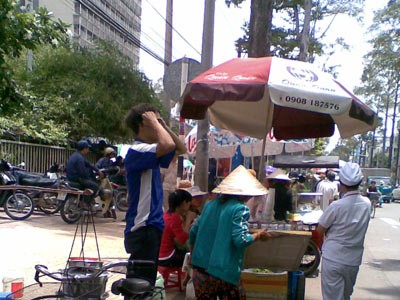 Residents must keep food safety and hygiene in mind when eating out at street vendors' stalls
Dr. Nguyen Cong Khan, head of the Health Ministry's food hygiene and safety department, expressed concerns about some of the items seen at markets in Hanoi, such as imported cattle and chemicals and additives without clear indications of their origins.
Dr. Bui Quang Anh, who heads the National Animal Health Department, warned diseases can be transmitted from imported cattle to humans. Mr. Anh said his staff had found a strange white ox at a slaughter house in Ha Noi's Hoang Mai District. The white ox, illegally imported into Vietnam, was suffering foot-and–mouth disease.
Those responsible for monitoring food markets were hampered by a lack of personnel, funding and space to store confiscated foodstuff, according to Ms. Nguyen Nhu Mai, deputy director of the Ha Noi Department of Industry and Trade.
In related news, the Ministry of Health has set up three food safety and hygiene inspection teams to carry out checks in the northern city of Ha Noi, the northern provinces of Lang Son and Bac Ninh, the southern provinces of Tay Ninh, Soc Trang, Ca Mau and Binh Duong and the southern cities of Ho Chi Minh City and Can Tho.