A man has died after contracting avian influenza A (H5N1) on February 26, the Ministry of Health said.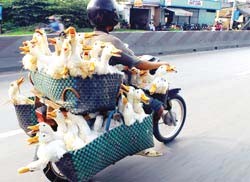 A man carries poultry that has not been quarantined. The government asks people to be more cautious to prevent the epidemic (Photo: SGGP)
Cu Van Chieu, 32, had eaten diseased poultry and became feverish from February 11.
Chieu lived in the northern province of Ninh Binh and passed away after 13 days of treatment at the National Hospital for Contagious and Tropical Diseases.
He is the second patient to die out of three people who became infected with bird flu since the beginning of the year.
If people are still unmindful to the epidemic by continuing to eat diseased poultry, authorities can do little to prevent and control the epidemic, Dr Nguyen Huy Nga, Head of the Preventive Health and Environment Department, warned.
According to experts from the Central Institute of Hygiene and Epidemiology, in order to limit the spread of bird flu contagion in people, they have to be clearly aware of the danger and be vigilant even in areas where bird flu has not occurred.
110 people contracted avian influenza A (H5N1), with 55 of those dying from the disease by the end of 2003 in Vietnam.