A 33-year-old man named Nguyen Duy Hai from the central highland town of Da Lat, who is suffering from an 80 kilogram tumor growth in his right leg, was on October 24 rushed to hospital in serious condition.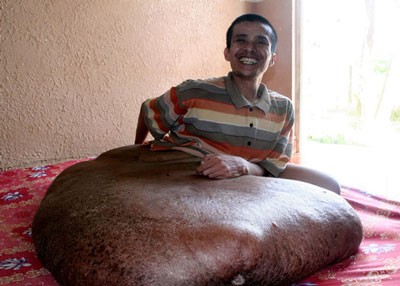 Nguyen Duy Hai before the surgery to remove the giant tumor (Photo: SGGP)
Hai was taken to the Hoan My Hospital for emergency treatment but later transferred to Lam Dong General Hospital where he fell into a deep trance and suffered brain swelling.
According to his relative, he felt pain in his right leg where his 80kg (roughly 200lb) tumor was removed by American plastic surgeon McKay McKinnon in 2011 at the HCMC-based FV Hospital.
Dr. Bui Xuan Thanh, Deputy Director of Lam Dong General Hospital said doctors are holding a consultation before deciding on a proper course of treatment for Nguyen Duy Hai.
However, on the morning of October 25, Lam Dong General Hospital said that patient Nguyen Duy Hai died. Dr. Pham Vu Thanh from the hospital explained the patient Nguyen Duy Hai died due to vascular congestion. When he was hospitalized on October 24, he was in coma and doctor could not measure his blood vessel and pressure.
Related article:
HCMC hospital delays operation of 90 kg tumor patient
US experts to operate 80 kilo tumor