The Ministry of Health has ordered a compulsory vaccination drive for people susceptible to highly contagious diseases in the country's most infected regions.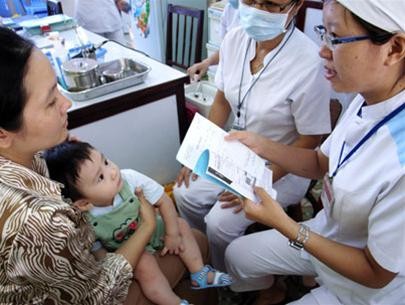 A woman takes her son to have vaccination in Ho Chi Minh City
As per regulations, diphtheria patients will be inoculated with diphtheria and tetanus toxoid and pertussis vaccine, used for simultaneous immunization against diphtheria, tetanus and whooping cough.
Similarly, rubella patients must inoculate against measles, mumps, and rubella virus. Hepatitis A and B vaccines must also be administered to those suffering from the infection.
Yellow fever vaccine will also be made available to those travelling from infected countries as per warnings by the World Heath Organization.
In addition, the Ministry announced a list of 21 infectious diseases and children and pregnant women covered under the National Immunization Program will receive free vaccines against tuberculosis, poliomyelitis, diphtheria, pertussis, measles, mumps, hepatitis B, Japanese encephalitis and typhoid.