Following the discovery of two outbreaks of rubella and 28 people contracting measles in the city, the city's Department of Health February 23 carried out emergency measures to prevent the spread of the diseases.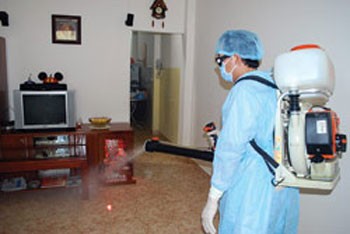 A medical worker sprays chemicals to disinfect an infected house where has measles patients ( Photo: TNO)
Rubella outbreaks occurred at a fashion shop and at Quoi Xuan primary school in district 12.
People developing measles came from districts 2, 3, 4, 5, 11, Binh Thanh, Tan Binh, Tan Phu and Thu Duc.
Patients at the fashion shop and pupils at the school suffered from symptoms of German measles for nearly a week before being treated and isolated.
The owner of the shop said over 100 people visited the shop daily while the sick employees were on duty, as such medical officials fear a high risk of the disease spreading.
Dr. Le Truong Giang, deputy director of the Department, openly criticized the primary school's management for their ignorance of the disease after an investigation at the school.
The staff's indifferent behavior to the disease could result in tens of pupils being infected who came into direct contact with the five pupils who tested positive for measles.
The Department has tracked outbreaks to Phuong Hong Pre-school in Thu Duc District, three cases; at 47/14 Tran Quoc Toan Street in District 3, two cases; and another case in Quoi Xuan Primary school.
The Department ordered medical workers to disinfect infected areas and administer vaccinations to those who had come into contact with the patients.
The city's Preventative Medical Center has stockpiled vaccines in preparation for a large outbreak of the disease.
The Department's director, Dr. Nguyen Van Chau, said that his department can use vaccines supplied for the National Program on Immunization for infants who have not received their first shot, as well as medical workers who came into contact with the patients and their relatives.
The city's Tropical Hospital warns that, rubella – also known as German measles, is a highly contagious respiratory infection caused by a virus.
It causes a skin rash and flu-like symptoms, including high fever, cough, and runny nose. At first, the rash appears on patients' faces but later covers the full-body and lasts for 4-7 days.
Characteristic markers of measles are small red spots with blue-white centers that appear inside the mouth.
In some cases, measles can lead to further complications, such as inflammation of the middle ear, croup, laryngitis, diarrhea, pneumonia, and encephalitis, which may require antibiotics or hospitalization.
To prevent the disease, it is best to inoculate children.
The measles vaccine is part of the measles-mumps-rubella immunizations (MMR) given at 12 to 15 months of age and again at 4 to 6 years of age.
The disease is dangerous for pregnant women. They may have a miscarriage, a stillbirth, or pre-term delivery problems if they contract measles.
Related article:
Rubella outbreak found in HCMC primary school