Currently 1,420 people in Hanoi have contracted scarlet fever, among them 242 have measles, with 79 percent of patients under 15 years old, said Le Tuan Anh, director of Hanoi Health Office on February 27.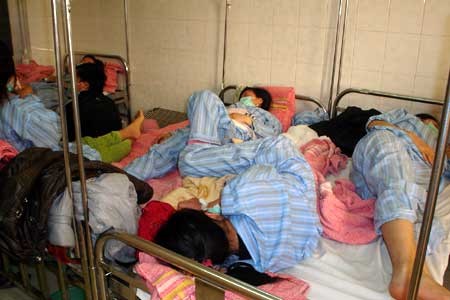 Measles patients at the National Infectious and Tropical Dieases Hospital in Ha Noi
According to the Children's Hospital, the number of children with measles has seen a rapid increase.
Most patients have complications, such as pneumonia and encephalitis.
Since October 2008 the Hanoi based National Infectious and Tropical Diseases Hospital has received, on average, 20 patients with scarlet fever a day and has treated more than 600 measles patients.
A major concern is based around scarlet fever, which reduces the immune system and has allowed many children inoculated against measles to still contract the disease.
The number of children admitted to St. Paul Hospital with scarlet fever has increased 50 percent compared to January. 
The Health Ministry said 200,000 doses of measles-mumps-rubella vaccines have been imported and were being checked for quality before being put into use.
 
The measles epidemic began in the north. It is spreading in HCM City, the latest area detected with measles.
Measles is a virus usually contracted during childhood. Symptoms usually include rashes and inflammation of the ears, nose, mouth and throat, with adults most prone to more serious complications.
The National Institute of Tropical and Infectious Diseases said the last severe measles outbreak occurred more than 10 years ago but most patients were teenagers.