Health insurance fund is falling in unstable situation because only the sick are buying voluntary health insurance, said representatives at a meeting between the Ministry of Health (MoH) and Vietnam Social Insurance (VSI) on February 17 in Ha Noi.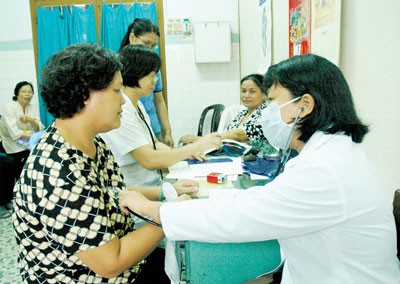 Insurance holders receive examinations at Nguyen Trai Hospital (photo:SGGP)
Deputy Health Minister Nguyen Thi Xuyen stressed that voluntary health insurance in Vietnam is different to the normal trends around the world where more people joining and causing losses rather than contributing to improving medical services.
According to VSI, the voluntary health insurance fund overspent by VND1,452 billion in 2007. Last year, 20.8 million insured people received medical treatment including compulsory medical insurance users and voluntary users.
To date, out of the VND2,300 billion ($132 million) VSO has paid out, VND1,577 billion is for voluntary insurers. The fund's deficit last year was around VND700 billion.
Although the number of people buying medical insurance has increased only the ill are buying, subsequently, the fund makes a loss. For instance, in the first six months of 2008, the deficit exceeded VND142 billion, of which voluntary health insurance spent VND100 billion.
Due to the fund's deficits, Ms. Xuyen instructed cooperation between the health sector and the VSI.
MoH ought to carry out inspections for insurance card holders. Moreover, it will have new regulation on how many days patients using insurance cards can stay at hospitals. Currently, those insured can stay two days at medical clinics or general district hospitals.
Consequently, patients must be transferred to central hospitals even though they have not recovered from illness and create pressures on big hospitals.
The president of the Voluntary Health Insurance Division, VSI, Hoang Kien Thiet, said that the Ministry must estimate how much voluntary medical insurance people should pay is equal to how many services they will use.
He suggested that hospitals should become privately run rather than funded by the government. He hopes the suggestion will reduce the use of expensive equipment, medicines and tests will be taken up.
In addition, the government should call for more people join in voluntary health insurance, especially healthy people.