Since 2012, Ho Chi Minh City has invested 121 standard medical clinics which provide examination and treatment covered by health insurance but just a few people have come over and check-up on these clinics.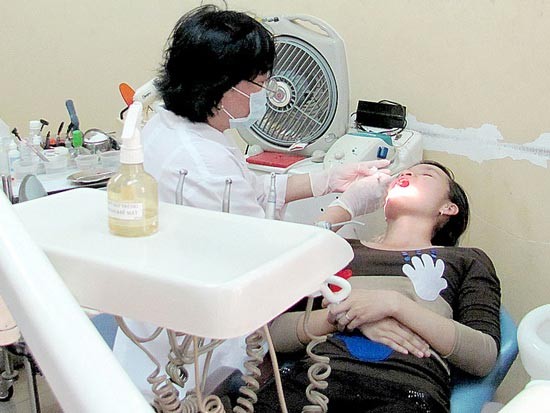 A dentist is examining patietns in the medical clinic in Binh Chanh District (Photo: SGGP)
Spacious medical clinic in Nhon Duc Ward in Nha Be District of HCMC was built on the area of 5,000 meter square with many rooms including lab, vaccination, maternity examination, and herbal medicine.
However, some of them are locked as there is no patient though the clinic has received health insurance card holders since 2011, said a doctor of the clinic.
One or two patients come to the clinic for medical check-up per day; most of local residents have registered to receive treatment at big public hospitals for better quality, said a resident.

The city insurance company said that just a few people register to receive treatment in local medical clinics. Luu Thi Thanh Huyen, the city Social Insurance Company's Deputy Chief, said that many big hospitals are not far from here therefore local residents do not go to small clinics.
It is a real waste to build clinics in urban districts, Huyen added.

Experts said that teams of medical workers and equipments in clinics can not meet residents' demand of high quality treatment. In addition, health insurance holders' rights are not be ensured in such clinics

The municipal Department of Health said that every year it has approved the allocation of around VND30 billion (US$ 1,410) funding to upgrade and purchase equipment for clinics but it seems clinics have still not met the current demands.