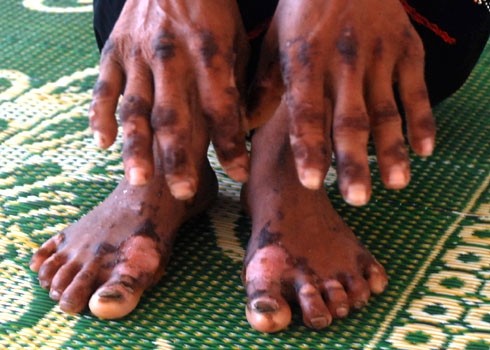 A patient with skin ulcers all over his hands and feet ( Photo: Tuoi tre)
The Scientific Council of the Ministry of Health announced on Feb. 12, that farm pesticides could be the cause of hundreds of people in the central province of Quang Ngai being affected by an undiagnosed skin disease that causes ulceration over hands, feet, mouth, back and abdomen.
However, the council has not so far verified which brand of farm pesticide was causing the disease.
The ministry has issued a warning for people to maintain better personal hygiene and keep their surroundings clean.
Farmers have been asked to wash their feet after returning from their paddy fields and to avoid contact with chemicals, especially pesticides, and to always wear protective clothing.
So far Quang Ngai Province has reported more than 100 cases of this as yet undiagnosed skin disease which has so far resulted in two deaths.
Related article:
12 patients cured of unknown skin disease