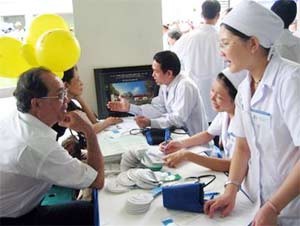 The high prices of medicine will prevent patients from necessary treatments. (Photo: TK)
The Ministry of Health yesterday has established four inspection teams to check medicine prices in Ha Noi and Ho Chi Minh City.
At an urgent meeting yesterday, representative of the ministry said that these four teams will focus their work on inspecting medicine invoices to determine the origin and the production cost of pharmaceutical products.
In addition, the Health Ministry also asked provincial and municipal departments of health to intensify inspections of pharmaceutical producing, trading and import and export businesses, hospitals and clinics. Any unit found violating regulations on medicine prices must be strictly punished.
Deputy Minister of Health, Mr. Cao Minh Quang, said the Viet Nam Drug Administration will only receive, consider and deal with the petitions to increase drug prices of companies under the Vietnam Pharmaceutical Corporation and companies that distribute their products via Zuellig Pharma, Diethelm Vietnam, and Mega Vietnam companies.
The administration has also assigned local departments of health to consider petitions to adjust medicine prices of other companies that don't belong to the above subjects.
Next week the Vietnam Drug Administration will make public average prices of some essential medicines that some public hospitals used in 2005 and 2006 as reference.
Several local companies have asked for the Vietnam Drug Administration's permission to increase the prices of some kinds of medicine. Although this agency has not yet approved the increases some kinds of medicine have had their prices increased in the market.