The National Steering Committee on Voluntary Blood Donation collaborated with the Institute of Hematology and Blood Transfusion and Ministry of Health celebrated a national level honoring ceremony for 100 blood donors across the country on Saturday.
Over eight years of the organization, the honoring ceremony has praised individuals, members of social organizations across the country who have not only  donated their blood many times but also mobilized their relatives, friends take part in blood donation campaigns.
100 individuals were honored on this occasion. Of these, four people have donated bloods over 70 times, twelve people over 40 times.
On the same day, Chairman of the Central Committee of the Vietnam Fatherland Front Nguyen Thien Nhan along with leaders of Ministry of Health, Red Cross Association of Vietnam had a meeting with 100 outstanding blood donors.
Speaking at the meeting, chairman Nguyen Thien Nhan appreciated blood donors and expressed  thanks to them for great contributions to the community, saving life for hundreds of thousand of patients across the country.
Blood donation is not only a good action for saving patient's life but also national solidarity expression of the Vietnamese people, said Mr. Nguyen Thien Nhan.
Besides, the chairman also hoped that the volunteers will continue to prove the meaningful work in blood donation campaigns.
The chairman also asked government organs and the community to encourage and praise individuals, groups participating in blood donation campaigns.
The blood donation campaigns have received participation of more and more individuals, members of social groups across the country, and become an annual meaningful activity aims to help patients with difficult life.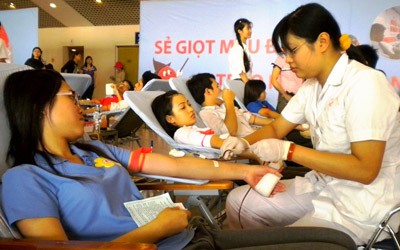 More and more people take part in blood donation campaign (Photo:SGGP)