Responding to the Prime Minister's urgent dispatch to step up measures to control the spread of bird flu, the Ministry of Health intends to focus on curbing bird flu, hand-foot-mouth disease, brain inflammatory disease and dengue fever, as a preventative measure to control further spread of infection.
The Ministry discussed various preventative measures to curb the spread of bird flu and implement epidemic prevention control plans for this year, at a conference in Hanoi on February 22.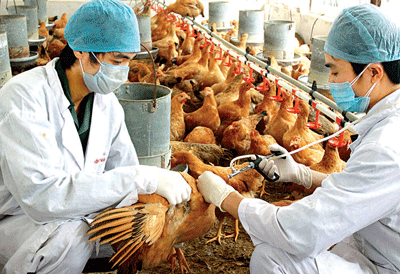 Vets  injecting vaccine to prevent bird flu (Photo: SGGP)
Ministry officials explained focus on bird flu, hand-foot-mouth disease, brain inflammatory disease and dengue fever because of their highest ratio of the number of infected patients and fatal deaths.
So far the country has recorded two fatalities of bird flu in the Mekong delta provinces of Kien Giang and Soc Trang; over 6,000 cases of hand-foot-mouth in 60 provinces including nine deaths; 10 cases of brain inflammatory disease including two deaths in Hanoi and in the northern province of Nam Dinh; more than 4,700 cases of dengue fever with two deaths in Ho Chi Minh City.
At the conference, the ministry said the sector has to increase its supervision to have timely effect in curbing spread of the disease in 2012 and strive to reduce by 5-10 per cent the number of infected people and deaths.
The sector will also provide training to Hanoi-based Central Tropical Disease Centre; Central Children, Central Hue, Children No.1 and 2 and Ho Chi Minh City-based Tropical Disease Hospitals. The health sector will increase the capacity in district hospitals by supplying equipment and mobile emergency teams.
The Department of Animal Health in the central province of Quang Tri said that bird flu has broken out in Hai Lang, Trieu Phong, Gio Linh Districts and Quang Tri Town, killing over 10,000 poultry so far. The province is still using outdated vaccine which proved to be ineffective in preventing the disease.
The People's Committee of the Mekong delta province of Dong Thap has ordered related agencies in its districts to implement preventative measures to curb the disease. Vets have been asked to work round-the-clock and management agencies must set up a hotline to receive information of fresh outbreaks in the province.
Agricultural authorities' in Dong Thap Province must monitor closely all breeding farms, households maintaining indoor incubators, open bred water fowl and all markets selling poultry.


A 45-day-old baby died of brain inflammatory disease in Hanoi, said Nguyen Nhat Cam, Deputy Chief of the Hanoi Preventive Medicine Centre on February 22. The child was from Ha Dong District.

According to Cam, Hanoi has reported five cases of brain inflammatory disease in the first two months of the year.

Hanoi reports cases of brain inflammatory disease each year, said Cam; however, this is a very dangerous disease as mortality rate is very high; for instance, last year Hanoi had two deaths among three reported cases.

Brain inflammatory disease has appeared in Hanoi since the beginning of the year in Hai Ba Trung, Me Linh, Hoai Duc and Ha Dong Districts. Medical workers have strictly monitored outbreaks and given timely medication to patients' caretakers.
Related article:
PM calls for urgent measures to prevent spread of bird flu