Cao Duc Phat, Minister of Agriculture and Rural Development has sent an urgent dispatch on February 6 to all provinces and cities nationwide to urge implementation of proper measures to control an H5N1 virus flu outbreak in the country.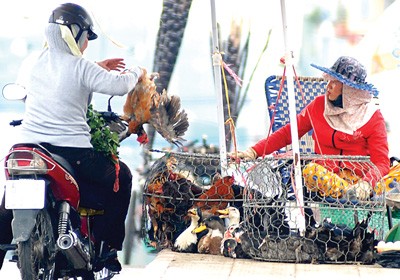 People continue to trade in illegal poultry in Cau Market in HCMC (Photo: SGGP)
Since the beginning of this year, the bird flu virus has reappeared in four communes: in the northern province of Thanh Hoa, the central province of Quang Tri, and the Mekong delta province of Soc Trang. This resulted in authorities destroying 1,683 poultry immediately with a further 4,032 subsequently, most of which were ducks.

Other areas such as the northern provinces of Thai Nguyen and Nghe An, the southern provinces of Bac Lieu and Kien Giang, and Hanoi also reported dead poultry suspected from bird flu.

To make matters worse, two cases of human death from Influenza A virus subtype H5N1 in Kien Giang and Soc Trang were announced by the Ministry of Health in January.

Due to the seriousness and complications of this outbreak, along with unfavourable weather conditions and the increase in poultry slaughtering and lack of suitable vaccines, the Ministry of Agriculture and Rural Development has declared a large-scale outbreak of bird flu.

To control the problem and minimise other occurrences of the disease as well as protect citizens' health, Minister Cao Duc Phat has asked related authorities and agencies to collaborate with the People's Committees in all provinces and cities to examine disease control measures in areas of high risk.

In addition, local veterinary centres are requested to cooperate with health officials, local authorities and organisations to closely monitor every water fowl breeding farm as well as keep an eye on field-running ducks, poultry, slaughterhouses, chicken and duck traders in order to discover and dispose of infected birds in time.

According to Hoang Van Nam, head of the Department of Animal Health, all bird flu vaccines imported from China have had no effect on viruses in   northern Vietnam and the Ministry of Agriculture and Rural Development (MARD) is urgently seeking better alternatives.

On February 6, the Soc Trang Bureau of Animal Health announced hundreds of dead water fowl in Tham Don, Ngoc To, Ngoc Dong Communes in My Xuyen District.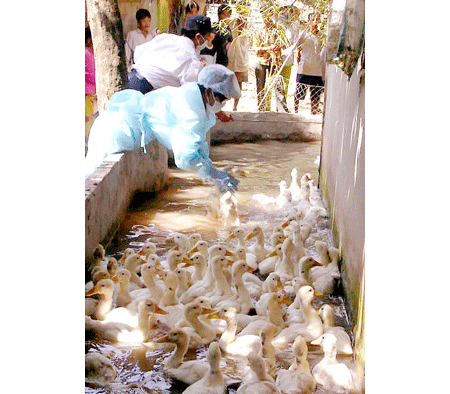 Water fowl without protective vaccine is the main source for spread of Influenza A virus subtype H5N1 (Photo: SGGP)
Accordingly, Tran Van Khanh, director of Bac Lieu General Hospital has warned all citizens against eating dead poultry. People who have had contact with dead chickens and ducks are highly susceptible to   bird flu and should seek medical treatment as soon as possible.

Even though people are warned against selling and eating dead poultry, a large number still pay no attention and continue to trade and cook dead birds. 

Since veterinary officers can do nothing for small-scale farms raising poultry inside their homes, their only hope is to acquire a more effective vaccine.

Ahead of Tet Lunar New Year, in Long My District of the Mekong delta province of Hau Giang, a bird flu outbreak on 450 chickens was discovered and then concealed as officers of the veterinary sub department were unwilling to publicly announce this, worried that it could affect their record at the end of the year, a normal occurrence in the Mekong Delta nowadays.
On February 6, the Veterinary Department urgently sent 1 million vaccines and 1.5 tonnes of virus destroying chemical to Quang Tri Province to fight against Influenza A virus subtype H5N1, a more complicated strain.