Cao Duc Phat, Minister of Agriculture and Rural Development, said at an online meeting that a determined effort was needed to expose food safety violators and names of such offenders must be made public and consumers too must boycott them.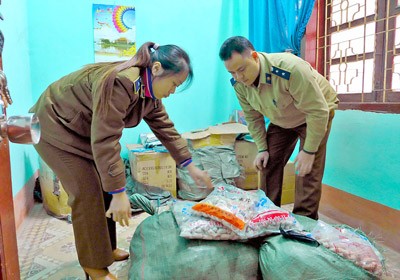 Market management staffs checking imported food (Photo: SGGP)
Speaking at the online meeting organized by the Ministry of Agriculture and Rural Development recently with provinces in the country on food safety management, Minister Phat stressed that it is time to issue harsh penalties on firms producing food under filthy and unhygienic conditions and violating all food safety regulations.
As per a ministry report, violations on food safety and hygiene do not show any downward trend.

Supervision of food samples in 11 cities and provinces showed that eight percent of vegetable samples have pesticide residues much above permissible limits, 10 percent of poultry samples were found tainted with Salmonella and 38.7 percent of food samples contained pathogens like E.coli that cause diarrhea or other stomach infections.

If food safety regulations are not tightened, the current situation in which hundreds of food poisoning cases occur every year, will continue, said Phat. However, there has been little change in management and control of dirty food as the rate of vegetables with pesticide residues is still high compared to other countries in the world.

The Minister emphasized that in 2013 the chief task will be to increase control over food safety and decrease by at least 10 percent the number of related food violation cases.