In Ho Chi Minh City, the Ministry of Health (MoH) yesterday launched a program themed "Joing hand for the life" aiming to call for organ donation and honor donors in a bid to rescue people suffering from organ failure.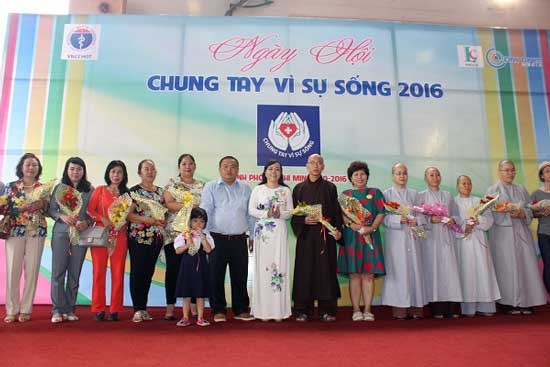 At the launching ceremony (Photo: SGGP)
Health Minister Nguyen Thi Kim Tien said that organ transplant demand has achieved great success in Vietnam. By initial statistic, over 6,000 people suffering from chronic renal failure are in need of kidney transplant; more than 1,500 people ( just in big hospitals in Hanoi) should have liver transplantation; around 300,000 people are blind because of cornea-related diseases and over 6,000 people are waiting for cornea transplant; hundreds of people are waiting for heart and lung transplantation.
Many of them died when they were waiting for a transplant surgery because of shortage of organ donation while many people died from traffic accidents, brain dead and their organ were not used to save others.

Accordingly, the Health Minister called for staffs and medical workers, sectors, people and organizations to register for organ donation bringing hopes to thousands of people having organ failure and blindness.

The national center for organ transplant and donor coordination under the Ministry announced by June, 2016, Vietnam has performed 1,281 kidney transplants, 54 liver transplants, 16 heart transplants, 8 bone marrow transplants, one kidney and pancreas transplant and one heart and lung transplant.

Currently, 16 medical facilities are permitted to conduct organ transplants.