The Ministry of Health yesterday warned of an outbreak of measles at an online meeting with aiming to implement measures against diseases and ensure food safety and medical activities in the Lunar New Year (Tet holiday) 2015.

This is the first time the Ministry of Health (MOH) convened an online conference with 651 medical units in 63 cities and provinces nationwide.

Dr. Tran Dac Phu, head of MOH's Department of Preventative Medicine said that since the beginning of 2015, the country has recorded 133 cases of people suffering fever with a rash possibly measles, a decrease by 80 percent compared to the same period last year. In addition to measles infections, the country also reported 16 whooping cough cases.

The National Children Hospital received 21 cases of measles infections among children under the age of 12 months old.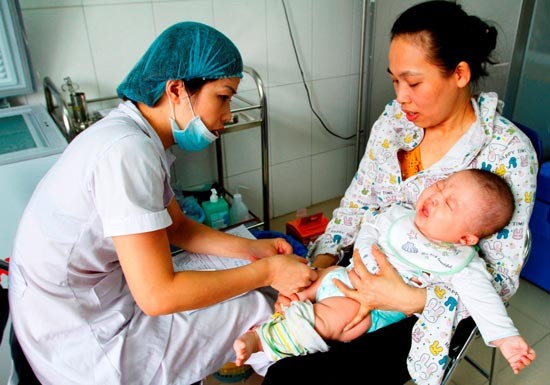 Parents should take children to vaccine at clinics or hospital for protecting themself against measles (Photo: SGGP)
Health Minister Nguyen Thi Kim Tien said that it is seasonal transition from winter to spring which is conducive to outbreaks of measles epidemic meanwhile a new avian influenza A (H7N9) and A/H5N1 viruses are plaguing in neighboring nations. Some nations reported outbreaks of measles even the U.S.

Accordingly, Vietnam could face measles epidemic which estimated to have more serious than last year if it has not well conducted massive vaccinations campaigns.

To prevent the dangerous disease, the Minister asked medical units especially children and respiratory wards in hospitals across the country to implement measures against measles as well as draw its own experience from the last year lesson in the National Children Hospital in which children contracted the disease from contacting with measles-suffering peers may catch the measles virus.

The local medical units were urged to adopt measures to prevent the epidemic when there has been an outbreak. Local governments should increase information of immunization benefits to encourage parents to take their children to medical clinics for vaccination which is effective in protecting against the illness.

The lesson of last year outbreaks of measles or whooping cough showed that parents waited for serviced vaccine as they think this vaccine is better than the Expanded Program on Immunization, said Health Minister Nguyen Thi Kim Tien.

Upon safe vaccination, the ministry leader directed that these medical workers who were not trained to administer vaccine are not allowed to inject vaccine to children. Directors of the departments of health and departments of preventative medicine and medical workers who administer the shots will assume responsibility in taking care of people's health.

Leaders of departments of preventative medicine must examine carefully before deciding to inject vaccine. Those violating the regulation will receive strict punishments, concluded Health Minister Tien.