Vietnam tries to achieve 75 per cent health insurance coverage this year and 80 per cent by 2020, said Prime Minister Nguyen Tan Dung yesterday at a session to review the implementation of the Law on Health Insurance and the blueprint for universal health insurance.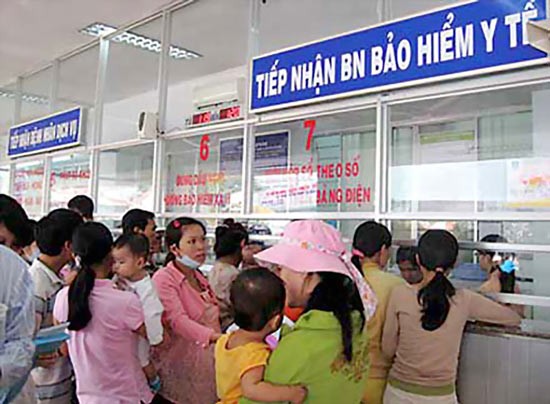 People register to buy health insurance (Photo: SGGP)
The Ministry of Health reported that in 2014, health insurance covered 71.6 per cent of the population, realizing the target of more than over 70 per cent set in the blueprint, but falling short of the 75 per cent mandated by the National Assembly.
 
However, the proportion of families whose economic condition is living near the poverty line, farmers, employees of private companies or volunteered health insurance buyers is just 40 percent (or around 2.5 million).
Along with improved treatment quality, health insurance participants also enjoyed the high medical services.
 
The PM said that the achievement has greatly contributed to poverty elimination and ensured social justice. The health sector should continue encouraging people to participate in buying insurance, especially people who is living near the poverty line.
 
On the same day, the PM presided a meeting with health ministry leaders to assess the project to reduce hospital overloading in the period 2013-2020 and next year implementation. According to the Ministry, after two year implementation, the overloading in hospitals has been improved. 58 percent big hospitals pledged not to have two or more patients in one bed.
 
Mr. Dung said that since 2008, the government has invested over VND120 trillion (US$5,619,226,611) in the health sector.  The sector has implemented synchronous measures to fight overloaded hospitals in an attempt to increase nearly 39,000 beds, build new hospitals and transfer technology to medical clinics in districts to improve treatment quality.
 
The PM instructed the health sector to work with related agencies and local governments to promote the construction of new hospitals and submit the plan to build new hospitals for the period 2016 to 2020 to let the government calculate the state budget and call for social contribution.
The PM stressed that one of decisive measures to reduce overloading in hospitals  and improve treatment quality is that doctors from big hospitals transfer technology to their counterparts in district hospitals.
 
Mr. Dung approved hike in medical service attached with hospitals' self-financing; which resulted in decreasing budget to hospitals. This amount will be used to buy health insurance for the poor.