The three ministries of Health, Finance, and Labor, Invalids and Social Affairs have passed a draft resolution to hike hospital fee rates on more than 400 health services.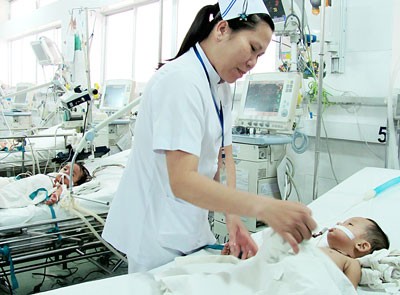 File photo shows health care at a hospital in Vietnam
The maximum increase on the fees as per the new resolution will be about five times more than the current rate, and about 70 percent of the services have already seen an escalation.
According to the draft resolution, the fees for medical exams will be raised from VND3,000 to VND20,000. While patients will have to pay VND20,000 and VND160,000 per day for a normal and first class sickbed respectively.
For instance, a patient will have to pay only 70 percent of the fee for a hospital bed if shared with another patient, and only 40 percent if shared with two other patients. Previously, there was no difference in fees for a bed-sharing arrangement.
The fee increase will not have a significant impact on the 53 million people covered by health insurance, said a representative from the Ministry of Health.
As for the poor people who have no access to heath insurance, the ministry has suggested that the Ministry to Finance should pay 70 percent of their insurance, instead of the current 50 per cent.
Pham Luong Son, head of the health insurance department under Vietnam Social Insurance, said whether health service rates are high or not it will have nothing to do with easing the bed-sharing issue, which is caused by overloading in hospitals.

Moreover, attitudes of doctors' and the care of patients are a matter of medical ethics, which are not likely to improve with hike in   hospital fees.

'With supply currently failing to meet demand, the quality of health services cannot simply be improved by hiking fees,' Son added.