A VND336 billion (US$15.6 million) cancer center which is a branch of Vietnam-Thuy Dien (Vietnam-Sweden) Cancer Hospital was inaugurated yesterday in the northern province of Quang Ninh , aiming to enhance treatment quality and meet demand of treating cancer for people in the Northeast area.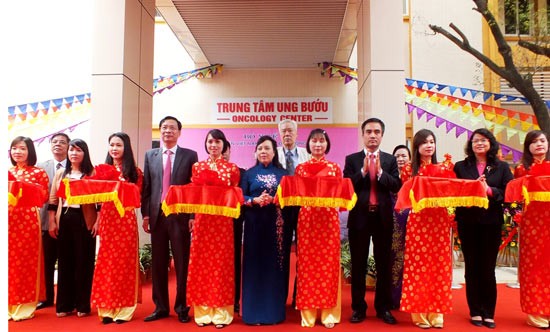 At the inauguration ceremony of the cancer center (Photo: SGGP)
The 200 bed center was invested by the Government and  well-equipped with modern machines for cancer treatment. It also has a dormitory for physicians and a library.
Speaking at the inauguration ceremony, Health Minister Nguyen Thi Kim Tien said that investment in the center was a part in the target of completing cancer treatment system nationwide in the future.

Moreover, the Vietnam-Thuy Dien (Vietnam-Sweden) Cancer Hospital will become general hospital to improve healthcare mission in the North, she said.
Ms. Kim Tien added that the center was also aimed at reducing the overloading in hospitals in Hanoi.
Hospital director Dr. Tran Viet Tiep said that there were more and more people suffering cancer, heart problems and endocrine.
According to annual statistics, the rate of new cancer patients per year account for 0.16 percent of the whole country population and the hospital receives from 1,500 to 2,000 fresh cancer people a year, he said.

As treatment demand has increased dramatically, especially cancer disease, in 2009, the Ministry approved the national cancer prevention development planning with the vision to 2020, in which the Vietnam-Sweden would be expanded with over 1,100 beds and three new cancer centers.
Vietnam has around 150,000 cancer patients annually, of which 75,000 succumbed to the disease. The number is expected to hit 200,000 by 2020.