National Assembly deputies agreed it was necessary to compile a new law to replace the current Ordinance on Food Hygiene and Safety after hearing reports from the Committee for Science, Technology and Environment (NACSTE) at the National Assembly Standing Committee's session Tuesday.

The law would regulate food quality, hygiene and safety.
According to the NASCTE reports, inspection results show that widespread violations on food hygiene and safety are out of control all over the country.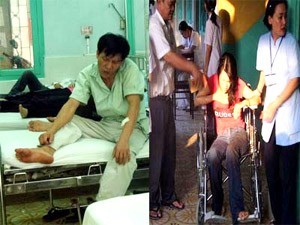 Victims of food poisoning are treated in hospitals
As a result, nearly 1,000 food poisonings have afflicted 23,201 victims from 2001-2005, 265 of which have died, according to the Health Ministry.
During the first six months of 2006, 19,636 food processing companies and businesses violated the food hygiene and safety regulations and 22 cases of food poisoning took 534 victims resulting in 14 deaths nationwide.
Deputy Chairman of the NA standing Committee for Social Affairs Le Van Dieu said that controllers, producers and consumers are not seriously considered in the matter and those inspections and controls seem to be casual and irregularly carried out if at all.
The Minister of Agriculture and Rural Development Cao Duc Phat unveiled that Viet Nam's agriculture looses US$1 billion a year due to poor hygiene and safety.
NACSTE has proposed that the NA Standing Committee strengthen its supervision as well as re-build the fund for activities against illegal trade.