The Department of Animal Health is beginning the second round of poultry vaccinations against bird flu today, August 22. This should be enough for the year, a department official said.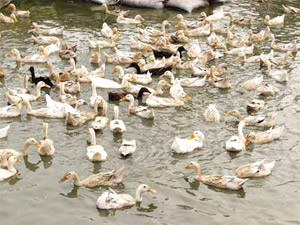 Ducks are raised in natural conditions, which is likely to lead to new outbreak of bird flu

With an outbreak of avian influenza threatening to recur, the National Steering Board for Bird Flu Prevention has ordered border authorities to improve quarantine and curb poultry smuggling into Viet Nam.

The Department of Animal Health has told border officials to closely check people entering Viet Nam as well as measure passengers' temperature at Tan Son Nhat Airport in Ho Chi Minh City and Noi Bai Airport in Ha Noi.
Any passenger with a temperature above 380 C must be isolated and tested.

Deputy Health Minister Trinh Quan Huan affirmed that Viet Nam had not recorded a fresh case of bird flu in human caused by the H5N1 virus for nine months.

However, the National Institute of Hygiene and Epidemiology reports that the rate of positive tests for the type B virus this year is five times greater than in 2005.

At Viet Nam's southern tip, Ca Mau province has set up two medical teams: one for diagnosis, taking care of patients, and doing the formalities for dead patients; the other to help health clinics deal with any human pandemic.

Ca Mau is budgeting more than VND3 billion for drugs, other chemicals and medical equipment to combat the disease.

In Dong Thap province at the heart of the Mekong Delta, some three million freshly hatched fowl are yet to be vaccinated.

In An Giang province to the west, no case of bird flu has been recorded for 18 months.

links:
Minister Orders Bird Flu Hot Lines Across Nation
Halting Poultry Farming Amid Efforts to Control Bird Flu
PM Warns of Bird Flu Threat