Nearly 300 Vietnamese people die daily for cancer, said experts on cancer at the national conference about cancer prevention in Hanoi.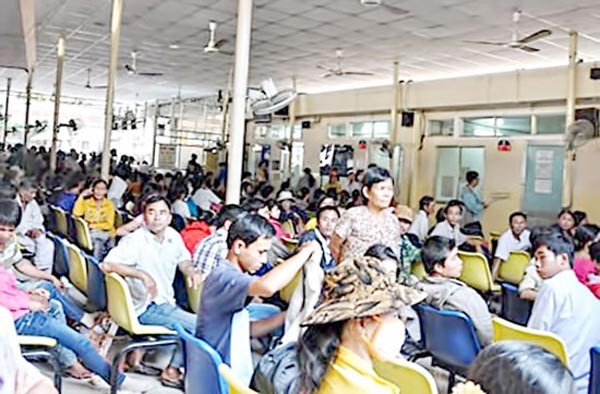 Tumor hospital in HCMC is always overloaded-Photo: SGGP
According to a survey, cancer results in around 95,000 deaths in Vietnam per year. Worse, also as per the survey, in 2000, 68,000 new patients had been diagnosed annualy with the disease, currently, it have leaped to 130,000-150,000 new patients and it is estimated that this figure will be 190,000 by 2020.

Nguyen Chan Hung, chairman of the hospital's Vietnam Cancer Society, said that cancer cases increase in most of nations in the world; however, the Southeast Asian country has seen a drastic rise; accordingly, Vietnam cancer rates are ranked at 78 out of 172 countries and territories worldwide, according to WHO.

Studies pointed out that the proportion of patients who fully recover from cancer is 30 percent or only three out of ten cancer patients survive. Dr. Tran Van Thuan, director of Hanoi-based K Hospital, showed the reason why more Vietnamese cancer patients die from the disease because more than 70 percent of them seek the treatment in hospital at late stages.

Other reasons include polluted environment, rampant unsafe food and alcohol and tobacco abuse.

Increased cases of cancer patients burned of finance for treatment will soar. By statistics, total cost of treatment for breast cancer, liver cancer, pancreas cancer, cervical cancer and stomach cancer is VND26 trillion (US$1,166,180,758) a year.
As per another survey, a cancer patient must spend around VND200 million on the treatment. Up to 35 percent of patients can not afford the treatment cost after one year.