Vietnamese-American Nguyen Van Tran, director of the US-based Stanford Technology Network Co., introduced a new product capable of preventing foot-and-mouth disease at a HCMC Overseas Vietnamese Science and Technology Club press conference Thursday.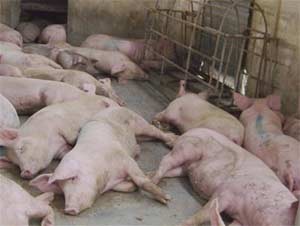 Pigs infected with foot-and-mouth disease (Photo: VietnamNet)

The BVR-402a product can kill all kinds of bacteria, fungi and ultra-viruses, as well as prevent foot-and-mouth disease.

The product has been effectively used in the US and the UK, and has so far proved experimentally successful in Viet Nam during June tests on 246 infected pigs.

The substance does no harm to humans, animals or the environment and can be used easily at low price.