A new regulation on doctors' prescriptions was drafted and is to be issued in the first quarter of 2008, replacing the previous one released in 2003 by the Drug Administration of Viet Nam (DAV).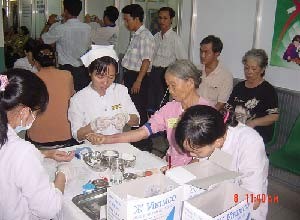 A doctor examines her patients at a hospital

The new prescription regulation will limit the validity of a doctor's prescription to within five days of its signature. Previously, ten days were allowed.

The aim is, reportedly, to ensure patients get effective treatment.

The regulation also prohibits those filling subscriptions from renewing expired prescriptions, though patients can revisit doctors for new tests and prescriptions.

A notable change in the new regulation is a ban on prescriptions made upon customers' requests. Doctors are directed to write prescriptions only based on their examinations.

An addition to the regulation apparently begging clarification is a restriction on prescriptions preventing them from including so-called "functional foods".

Finally, limits are put on long-term prescriptions banning drug stores from sell any prescription lasting more than 10 days. Patients requiring longer prescription must get them in 10-day installments.