India declared itself free of bird flu after nearly four months of reporting no cases of avian influenza in poultry, a senior animal husbandry official said on August 14
.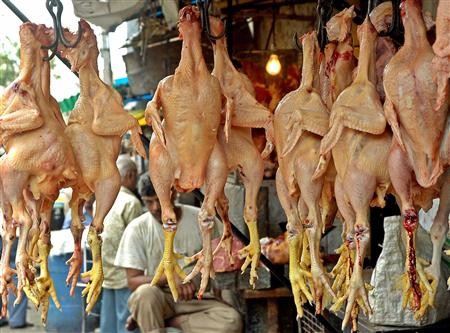 Slaughtered chickens are displayed outside a shop in the southern Indian city of Bangalore
India had several outbreaks of bird flu between February 18 and April 18 this year in three out of its 29 states in the western and central regions of the country.
Authorities killed more than a million birds to contain the disease and monitored and tested dozens of people for the H5N1 virus. All human tests were negative.
The Animal Husbandry Department, which has led the fight against bird flu, has informed the Paris-based World Organization of Animal Health (OIE) that India was now free of the disease.
"We want to assure consumers of poultry they have nothing to worry about," Animal Husbandry Commissioner Santanu Kumar Bandyopadhyay told Reuters.
"Though we have declared ourselves bird flu-free and notified OIE, we will not let down our guard and will maintain a close vigil over poultry."
A key factor in controlling outbreaks was quick payment of compensation to farmers whose stocks had to be culled, Bandyopadhyay said. India has paid more than 30 million rupees (US$650,000) in compensation to farmers since February.
"Early compensation to farmers has been key as it gets them to report suspicious deaths of chickens," Bandopadhyay said.
India's US$7.8-billion poultry industry reported hundreds of millions of dollars of losses due to the bird flu outbreaks.
Though the domestic poultry sector has picked up considerably since April, exports have been devastated, officials say.
The H5N1 virus has spread from late 2003 from Asia to Africa to Europe and killed 138 people. It has also resulted in the culling of millions of birds.
Source: Reuters