Government agencies agreed not to fix permissible limits for melamine content in food and to wait instead for recommendations from UN health agencies at a meeting held in Ha Noi yesterday to discuss food hygiene and safety.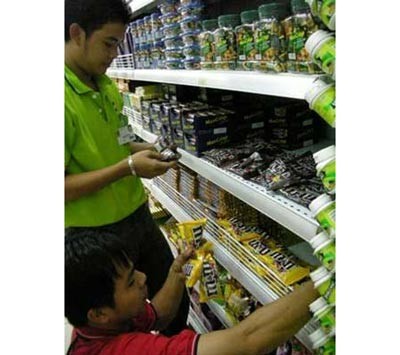 Big C supermarket employees recall dairy products for tests (photo:TTO)
All milk products tainted by melamine would continue to be confiscated to ensure the health particularly of children, Deputy Health Minister Dr. Cao Minh Quang said.
His ministry fears that any announcement about a permissible limit could see people relax their vigil against dairy products containing the toxic chemical and end up poisoned due to regular use.
No research has been done on melamine's effects on humans. But tests on dogs in the US saw 1,500 killed due to prolonged ingestion.
Melamine, a highly toxic chemical, is banned as a food and feed additive.
Participants at the Ha Noi meeting made three recommendations: to send back melamine-tainted milk products imported from China, withdraw dairy products without clear indications of origin from the market, and destroy other imported products containing melamine.
The Chinese Health Ministry and its counterparts from the 10-member Association of Southeast Asian Nations signed an agreement in Manila under which China agreed to take back all its contaminated milk.
The countries also said at the meeting that ASEAN should strengthen regulations to protect consumers from potentially harmful products that move easily across borders in this era of free trade.
Viet Nam is set to send back around 393 tons of milk powder to China.
It will withdraw 104 tons of dairy products without clear indications of origins and penalize their distributors.
Over 366 tons of melamine-tainted milk products imported by Hanoimilk, 18 tons of Yili Milk by Kim An and A Chau in HCMC, and four tons of low-quality dairy materials will be destroyed.
Dr. Quang said the Ministry of Natural Resources and Environment would decide how they would be destroyed.
Officials from the Ministries of Health, Agriculture and Rural Development, Industry and Trade, Natural Resources and Environment, Public Security, Foreign Affairs, and Science and Technology attended the meeting.