As per a survey conducted by the Department of Preventive Medicine under the Ministry of Health, while the rate of contagious disease is dropping, non-communicative diseases (or chronic diseases) are rising.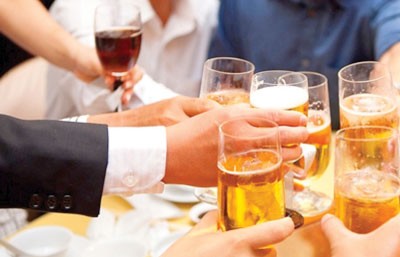 Many Vietnamese people drink alcohol resulting in increase in people with non-communicative diseases (Illustrate photo)
The Department yesterday held a meeting to announce a nationwide survey of risk factors of non-communicative diseases 2015. According to the survey, the proportion of chronic diseases increased from 60 percent in 2006 to 71.6 percent in 2012.

Mortality rate from non-infectious diseases accounts for 73 percent of the whole deaths because of all diseases in the country.  Heart disease remains the leading cause of death in the Southeast Asian nation, next are cancer, diabetes and chronic respiratory diseases.
Risk factors such as person's background; lifestyle and environment are known to increase the likelihood of certain non-communicable diseases. Non-transmissible diseases leaped quickly in Vietnam involve in smoking, lack of exercises, alcohol abuse and improper diet.

Deputy Health Minister Nguyen Thanh Long said the rise of these non-contagious diseases lead to increase in medical cost and overloading in medical facilities. Treatment cost of non-communicative averagely is 40-50 times higher than that of contagious disease because doctors must use hi-technological treatment, specific drugs and prolonged treatment time. Worse, these diseases usually produce side-effects.

Survey result showed that 77.3 percent of male and 11 percent of female drink alcohol and the number of both gender having alcohol tends to soar in next time.

Also as per the survey, adults eat veggies and fruits less than the World Health Organization's recommendation of 400 gram a day. Additionally, a person averagely consume 9.4 gram of salt per day, two times higher than WHO's recommendation of less than 5 gram.
One third of the population do not practice physical exercise while WHO advised every body to do this at least 150 minutes a week.

Moreover, the survey pointed out 15.6 percent of Vietnamese people are obese and the rate of obesity in urban districts. Additionally, the rate of people with high blood pressure is 18.9 percent and 30.2 percent of adults suffer high blood cholesterol.