The National Institute of Hygiene and Epidemiology in Ha Noi is carrying out tests on a 23-year-old woman who is suspected of contracting the H5N1 strain of bird flu, a top health official said.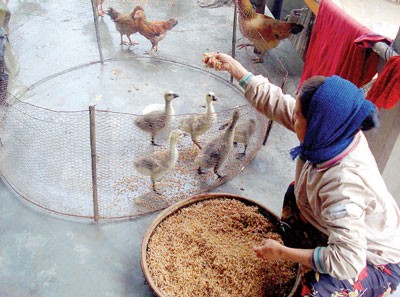 Farmers have relaxed their behavior to bird flu
Ly Tai Mui, 23, from the northern province of Quang Ninh has severe respiratory problems and some other symptoms of the disease, Dr. Nguyen Huy Nga, head of the central Department of Preventative Health and Environment, said.
The patient was admitted to a local hospital before being transferred to the province general hospital on February 3 with pleuro-pneumonia and breathing failure.
She was diagnosed as having bird flu and was treated in isolation.
According to preliminary information, the woman did not slaughter poultry but ate it. Her neighbors breed water fowls and some died of unknown causes.
Dr. Nga said earlier four people -- two in Ho Chi Minh City, one in the southern province of Tay Ninh, and one in the Mekong delta province of Vinh Long --suspected of having bird flu have tested negative.