The Orbis Flying Eye Hospital brings a message of peace and brotherhood on its first eyesight-saving mission to Viet Nam.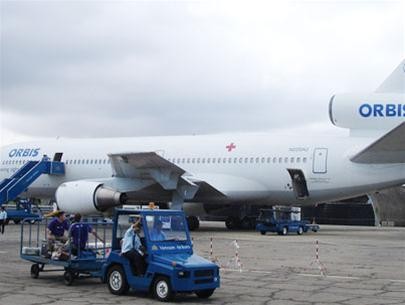 The Flying Eye Hospital lands at the Da Nang airport
They begin work at eight in the morning so it's whisper quiet in the special airplane. The doctors and ophthalmology trainers talk softly into walkie-talkies pinned to their lapels.
Fifteen-year-old Le Trung Thanh from Hoa Nhon, a commune in Da Nang's Hoa Vang District, is led inside by two nurses from the Da Nang Eye Hospital. He gets taken into the examination room for a final check then whisked straight into pre-op.
His mother, Nguyen Thi Thao, waits nervously outside and remarks that she steps onto plane for her first time.
Inside a score of visiting 20 surgeons and anesthetists work side-by-side with their Vietnamese colleagues checking that all is ready for the operation or giving hands-on training, lectures, surgical demonstrations, and diagnostic and post-operative consultations.
In the plane's converted VIP area, Vietnamese doctors wearing headphones gather for lectures, discussion and live broadcasts of surgery from the Flying Eye Hospital's operating rooms.
They clasp books and pens for noting down the words of the American professor, who speaks through a Vietnamese interpreter and describes what he is doing and why as he goes.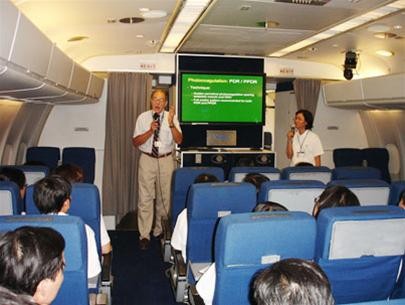 In the VIP area, Vietnamese doctors listens to lectures and watchs live broacasts of surgery
The surgery is also broadcast to a makeshift classroom outside the aircraft. A crowd of Vietnamese doctors observe the operation and ask questions of the surgeons as they work and speak into their microphones.
One of the avid watchers is Dr. Tran Thi Phuong Thu, director of the Ho Chi Minh Eye Hospital. "It's so modern and professional. You learn more out of this in one day than you can in a month of theory," she whispers. "What we are discovering about advanced surgical techniques and from the doctors' experience are precious beyond imagining."
Drew Boshell, the Flying Eye Hospital's director, tells us that the operation can be viewed on nearly 50 television sets in the control room, from where they monitor every activity of the hospital.
Four hours later, Thanh is ready to go back to the Da Nang Eye Hospital. He sounds chirpy and very impressed by all he has seen and heard. "They are so professional," he says of the Orbis volunteers.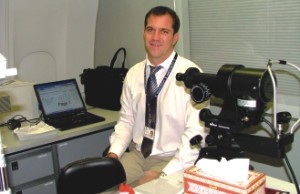 Drew Boshell says the operation can be viewed on nearly 50 television sets
"It was a complicated case of cataracts," says Director Pham Binh of the Da Nang Eye Hospital. "But the doctors of the Flying Eye Hospital not only carried out the operation, they instructed and explained everything they were doing so that Vietnamese doctors could master the techniques."
On day one, the Orbis doctors handle seven difficult cases and don't stop working until six in the evening, and then head back to the hotel.
There are 20 specialists from 10 nations who work permanently in the Flying Eye Hospital.
Besides the volunteer ophthalmologists and anesthetists, there are nurses, optometrists, and the all-important technicians and maintenance crew.
"I had a special feeling as soon as I arrived in Da Nang," says retina specialist Professor Rosalind Stavens, who joined the US Army 40 years ago and was sent to Viet Nam. "Da Nang has grown beyond recognition," he says in amazement.
He was inspired to give up his job at the Dartmouth Clinic in New Hampshire and join the crew of Orbis by his memories of Viet Nam's hospitable people and peaceful villages. "I always catch friendly looks when I go downtown."
Jackie Nguyen is another retina specialist with Orbis. Born Nguyen Khac Khanh Dung, he left Viet Nam when he was five years old. "For years I have been thinking of going back to my homeland one day," says the 31-year-old. "It is not easy to express my feelings being on Vietnamese soil again, especially when I put my hands on the rural mothers to examine their eyes."
Chief pilot Jimmy Leebevier used to be a regular army pilot stationed in Thailand. He knows Da Nang because he flew freight between the city and Thailand from 1965 to 1967.
He recalls how he once told his wife and children about wanting to see Viet Nam again if the opportunity arose.
An air of satisfaction surrounds Jimmy as he talks. He feels he is being useful to the Vietnamese people.