Although Vietnam has successfully performed organ transplant operations half a century later than much of the rest of the world, it has now caught up with other countries in this field.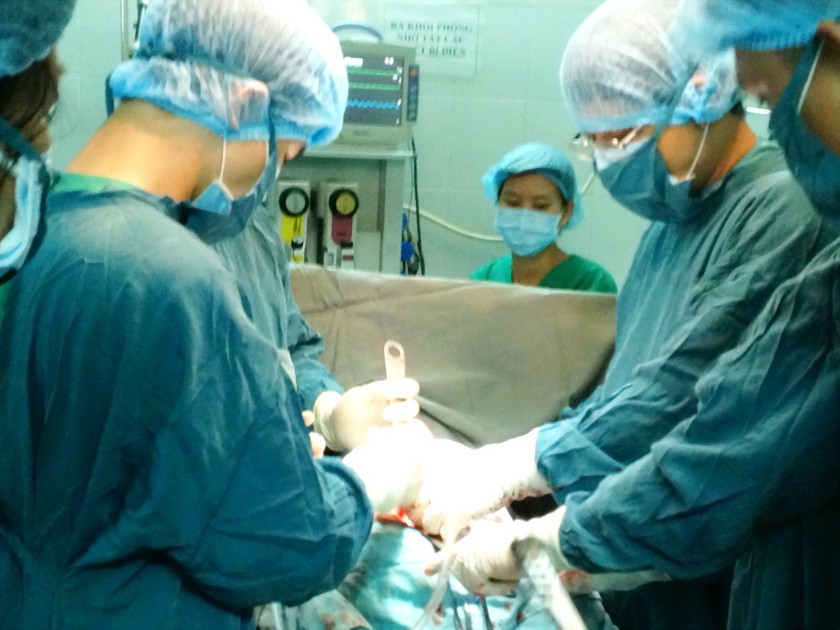 Surgeons perform an organ transplant (Photo: SGGP)
Over 4 months since the heart and liver had been transported from Cho Ray Hospital in Ho Chi Minh City to Hanoi to transplant for patients with liver and heat failure, Cho Ray Hospital's Deputy Director Dr. Pham Thi Ngoc Thao said that when the flight with experts took off in Noi Bai International Airport in Hanoi, surgeons in Cho Ray started to remove liver and heart out of the dead brain patient.
All surgeons raced against time and the God of Death and at last surgeons had succeeded. Liver was transplanted for a 60 year old man and heart was transplanted for a 40 year old man, she added
Before in July, 2015, Cho Ray Hospital announced a brain dead man who agreed to donate his organs; subsequently, his organs had saved six lives. Cho Ray Hospital Director Dr. Nguyen Truong Son sent a thank to families of organ donors.
In last October Vietnamese Health Minister Nguyen Thi Kim Tien said that she registered to donate all her organs after her death. Her decision is supported by her family. Ms. Tien said that donating our organs is to give life after death.
Although Vietnam performed organ transplant operations 40 years later than other countries, it has now caught up with countries that have modern medicine sector, she added. Currently, 14 medical facilities across the country are able to carry out organ transplants.

Health Minister admitted that there are more people in need of a organ transplant than there are donated organs, which means there is a waiting list. Though surgeons in the country tried their best, over 16,000 people suffering organ failure are still waiting for organ transplants and more than 6,000 blind people are waiting for cornea transplants.
They are struggling with the disease all the time yet just some of them have a chance to survive because a few of people have agreed to donate.
For 23 years since Vietnamese surgeons could perform organ transplantation, around 1,200; 46; 10 and one people have undergone kidney, liver, heart and kidney- pancreas transplants respectively.
Around 1,000 brain dead people are reported in Viet-Duc Hospital in Hanoi annually but  only 26 people have agreed to donate their organs meanwhile as per Cho Ray's statistic, since 2008, it has 10 brain dead donors have agreed to donate their organs which saved 20 people later. Even the Vietnam National Coordinating Center for Human Transplantation has just encouraged 500 people agreeing to donate their organs.
Accordingly, the Ministry of Health and the Vietnam Fatherland Front Central Committee launched a program named "Khi su song duoc chia se" ( When life is shared) aiming to honor good act of organ donation after death. It is also to call for donation of organs and the health's sector's gratitude to those who donated their organs after death to save persons suffering organ failure.