The Department of Animal Health in the Mekong delta province of Soc Trang on February 5 confirmed bird flu in 700 free-range water-fowl in My Xuyen District.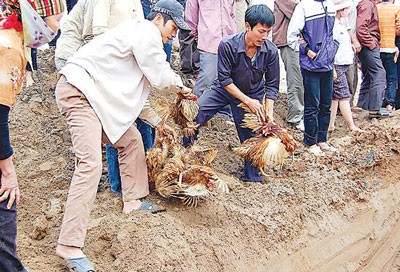 Residents in Thuong Tin District, Ha Noi, elbow each other to take must- be- destroyed poultry in spite of the government's warning of bird flu ( Photo; SGGP)
Two month old ducks had previously been vaccinated against the disease. Veterinarians culled all poultry and disinfected the affected area to prevent the disease spreading.
As the duck breeder, Tran Van Han, in Gia Rai had 29 ducks that died from bird flu symptoms, the Department of Animal Health in the neighboring province, southwest of Soc Trang, Bac Lieu destroyed 270 ducks and veterinarians took samples for tests.
Ca Mau Province in the southern tip of Vietnam, authorities are worried that the spread of bird flu maybe out of control.
The People's Committee issued instructions to cull diseased poultry and any chickens with symptoms of avian influenza, not waiting for tests.
By February 5, nearly 3,000 poultry in Thoi Binh District presented symptoms of the disease.
It is a big challenge for veterinarians in the Mekong delta provinces of Ca Mau, Soc Trang and Bac Lieu as bird flu occurred in flocks of water-fowl raised in free-range conditions.
Inspectors from the Ho Chi Minh City Department of Animal Health fined 166 people for the sale of live poultry and smuggling of water-fowl into the city. Unsafe poultry, including 600 cocks, 180 ducks, 544 dead poultry, 350 birds and over 22,000 eggs, have been destroyed.
Bird flu has not only occurred in southern Vietnam but in the center as well. The Department of Animal Health in the central province of Nghe An and local administrators culled 380 ducks in Do Luong District.
The farmer's, Nguyen Van Hung, flock of water-fowl died between January 31 to February 3 and samples tested positive for the H5N1 bird flu strain. 3,000 dozes of vaccine against H5N1 and 60 liters of chemicals have been earmarked for sterilization of the area.
In related news, director of the Department of Animal Health in Section III Duong Tat Thang confirmed tests showed that swine of farmer Nguyen Thai Huy and his neighbors died of cholera, not of Porcine Reproductive and Respiratory Syndrome Virus, commonly known as blue ear.