There is great public concern at the outbreak of scarlet fever and measles in Hanoi and the Northern provinces.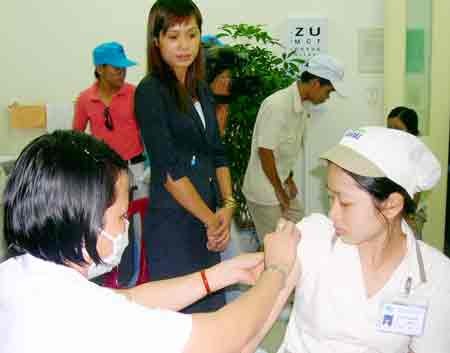 A medical worker inject vaccine to a female worker. Vaccinationis one of effective ways to prevent rubella, according to deputy director Nguyen Hong Ha (Photo: SGGP)
Not only children but also adults are susceptible to the infectious virus. Patients are already crowding the infection division of the National Tropical Disease Centre in Hanoi.  According to the deputy director of the hospital, Nguyen Hong Ha, scarlet fever has occurred during the same time in previous years and children have been most vulnerable to the disease. This year however, the fever has prolonged for one month and showed no signs of abating.
Hundreds of adults have been hospitalized this year including serious and complicated cases of encephalitis, while toddlers are seen to suffer from respiratory inflammation.
After Tet (lunar New Year), more than 70 percent of the people hospitalized for examination and treatment suffered from influenza and scarlet fever.
Doctor Ha disclosed that the culprit behind the present scarlet fever spread was the rubella virus, a pathogenic agent of the rubella disease. It is transmitted from one person to another. A few scarlet fever cases were caused by drug allergies or streptococcus.
Both scarlet fever and measles showed similar symptoms in the early phase of the infection, hindering an early diagnose and treatment of the disease which led to ultimate serious complications.
Doctors Ha advised people to have vaccination and anyone who showed symptoms of fever or measles should avoid crowded places, wear a face mask and preferably stay indoors.
In related news, the Ministry of Health announced on February 9 that nearly 100 swine flu cases have been reported nationwide. Eight provinces recorded 96 H1N1 patients of which 67 were in Hanoi and 22 in HCMC.  One H1N1 patient was reported to have succumbed to the fatal disease.