More than 200 workers of the Dream Mekong Company in An Cu Commune of Cai Be District in the Mekong delta province of Tien Giang suffered food poisoning soon after eating lunch on April 16, with 160 workers reported to be in serious condition.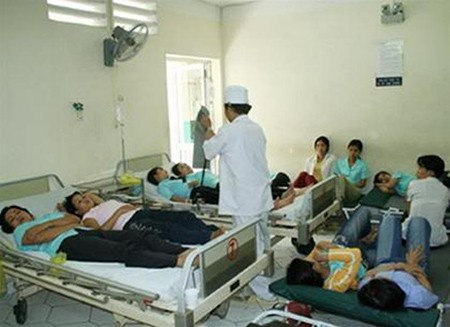 For illustration
On April 16, the lunch that was served to almost 2000 workers consisted of anabas cooked with sauce, centella soup and stir-fried chayote.
A few minutes after eating the meal, many workers complained of a headache and stomach pain, and feeling of nausea and convulsion.
All the victims were rushed to Cai Be General Hospital and 160 of them are still undergoing treatment. Bui Van Nghieu, director of the hospital, reported that his doctors had administered instant infusion to the most serious cases while others were given medication.
This quick emergency treatment helped many revive faster and most of them are quite stable at present.
The Department of Health in Tien Giang Province has already sent the suspected food samples to the Institute of Hygiene and Public Health in Ho Chi Minh City for analysing.
According to Doctor Tran Thanh Thao, deputy director of the Tien Giang Department of Health, medical officials are awaiting results of the sample tests to administer the correct medicine for treatment. At the moment, there have been no fatal cases reported, said Thao.
In 2010, more than 200 workers of this same company had also suffered food poisoning soon after eating lunch.