HA NOI (VNS)  — Deputy Health Minister Nguyen Viet Tien yesterday asked other hospitals in the capital city and neighbouring provinces to support the National Hospital of Paediatrics, which has been strained by overcrowding over the last two months.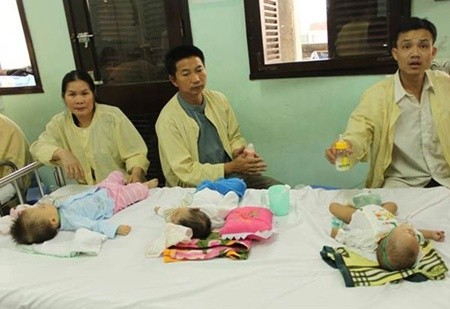 Three children share a bed at the National Paediatric Hospital. The hospital has been trying to cope with overcrowding for two months. — VNA Photo
Meeting with representatives of the Ha Noi Health Department and hospitals, he said the Department of Medical Examination and Treatment Management should oversee patient transfers to other hospitals in a streamlined process.
He also recommended that parents of children with respiratory problems visit local hospitals first.
The meeting followed media reports that the number of children admitted to the National Paediatrics Hospital in Ha Noi had increased sharply in the last two months, causing overcrowding and a shortage of medical equipment for treatment.
From 1,400 in February, the number has shot up to almost 1,700 in April, 30 per cent more than the hospital's capacity, the reports said.
They cited deputy director of the hospital, Le Thanh Hai, as saying three or four children were having to share a bed in certain wards.
About 100-120 patients suffering from serious illnesses need respiratory ventilators while 200-250 need oxygen cylinders.
The respiratory department has 14 doctors and 36 nurses, meaning each doctor is in charge of 21 patients, half of whom need respiratory ventilators.
The communicable diseases department, meanwhile, is handling over 200 measles patients and facing a shortage of equipment, doctors said.
Among the patients, almost 500 are from Ha Noi, about 50 are from Bac Ninh Province and others are from the neighbouring provinces of Hung Yen, Nam Dinh, Hai Duong, Hai Phong, Bac Giang and central Thanh Hoa and Nghe An.
Hai said that the hospital requested that the Health Ministry facilitate the transfer of patients to other hospitals and arrange funding for more medical equipment.
He also called for the simplification of health insurance procedures to relieve the burden on patients.