President Truong Tan Sang yesterday offered honorary Hero of Labor title to Pasteur Institute in Ho Chi Minh City for its outstanding achievements and contribution to public health.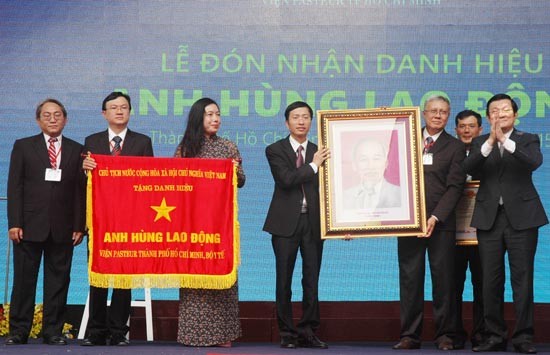 President Truong Tan Sang offers Hero of Lbor title to Pasteur Institute. (Photo: SGGP)
Speaking at the ceremony, President Truong Tan Sang appreciated significant contributions, achievements as well as efforts of institute's staffs, officials and researchers in improving public healthcare.
Pasteur Institute in Ho Chi Minh City is a leading national institute in the southern region from Lam Dong to Ca Mau provinces that was found in 1891. Besides, it specialized in preventive medicine, medical biology and microbiology.
With the important role of the medical science institute, Ho Chi Minh City Pasteur Institute has implemented successfully scientific research works for medical development such as surveillance and support for national programs against infectious diseases, management of national public health programs, production of vaccines (BCG, rabies) and diagnostic products, medical analysis, vaccinations, a dispensary and food security.
The institute was the first medical center discovering HIV infected patients in Vietnam in 1990. Researchers from Pasteur Institute have succeeded in completely decoding the gene of the H5N1 virus type A.
The President called on the institute to strive for becoming a regional prestigious medical institution and continue to improve public healthcare,