Ho Chi Minh City hospitals run normally on the first day of application of new hospital fee, reported by SGGP.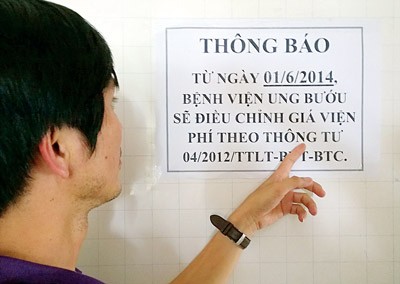 Tumor Hospital's announcement of fee hike (Photo: SGGP)
Patients expressed satisfaction if hospital fee hike along with better services. Most of health insurance card holders did not worry about the new hospital fee because in reality the health insurance agencies cover most payment for their treatment and they are required to make copayment but not much for healthcare services.

Around 63,000 health insurance card holders registered in the District General Hospital in District 2, said Dr. Tran Van Khanh, director of the hospital.

The new hospital fee rate does not affect them much, even some technique service increase slightly, he added.

Meanwhile doctors of the Tumor Hospital in District Binh Thanh where nearly 90 percent of patients are insurance card holders felt burden on patients from hike hospital fee.

Hospital Director Le Hoang Minh said that most of patients who suffer incurable diseases have to undergo complicated technique services, hence they have to pay a bit high differential margin.

So doctors try to apply best available techniques in treatment, Mr. Minh said.

Ho Chi Minh City is the final city to apply new hospital fee as per the ministries of Health and Finance instructed in 2012.

The new fee schedule will take effect in the 378 public hospitals and clinics in the city, with those for examination and checks, the daily cost of a sickbed, tests, and many other services rising to 75 percent of the rates that will come into effect in 2016.
Next year they will go up to 85 percent and 75 percent respectively, and a year later to 100 percent.