A year after WTO accession, the number of foreign pharmaceutical firms now operating in Viet Nam has seen a sharp increase. But the local pharmaceutical sector is still dependant on imported materials despite expansive growth.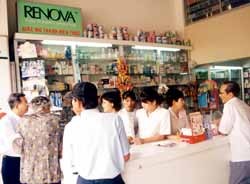 The prices of domestically produced medicines increase these days due to rising prices of input materials 
According to the Head of the Vietnam Pharmaceutical Management Bureau, in 2007, the number of foreign firms rose by 58 over last year, bringing the total number to 370.

But most foreign firms operating in Viet Nam are small or medium enterprises and mostly Asian. India tops the list with 81 companies, followed by Korea and China.

Indian and Korean-made medicines made up 58 percent of Viet Nam's total imports.
The two countries also topped the list of imported medicines by nationality that had been withdrawn from the market for quality violations, with 19 medicines pulled from shelves.

Deputy Minister of Health Cao Minh Quang said most imported medicines are broad-spectrum bestsellers, such as anti-bacterial agents, and many firms are usually registered to import those medicines. Specific drugs, however, are still rare and come mainly from France, Germany and Switzerland.

Imported medicines have played an important role in preventing and treating diseases as well as providing raw materials for Viet Nam's pharmaceutical industry, Quang noted.

Despite the fact foreign pharmaceutical enterprises are flocking to Viet Nam, local firms are still growing well. To date, Viet Nam has 180 pharmaceutical factories, 75 of which meet Good Manufacturing Practices (GMP) standards, 25 of which are foreign-invested.

It is expected that local production will earn some US$560 million in 2007, up 18 percent from 2006 and catering to just over half of domestic demand.

But Vietnamese companies are still dependant on imported raw materials. For the over US$560 million in pharmaceuticals produced locally, some US$160.3 million was spent on importing raw materials, up 23 percent from 2006.

High levels of imported inputs have contributed significantly to inflation in domestically produced pharmaceutical prices this year.

To ease the problem, the Ministry of Health is to promote foreign firms' collaboration with local firms in joint-ventures to build more factories, transfer technology and promote franchising.

The ministry also plans to more intensively inspect the quality of medicines on the market and finish the construction of a national network of retailers by 2010.