In the framework of Conference on Hospital Management Asia 2016 which took place on September 7 in Ho Chi Minh City, Philips Corporation announced its new business strategies  focusing on health technology in Vietnam, aiming to improve people's health condition and living quality.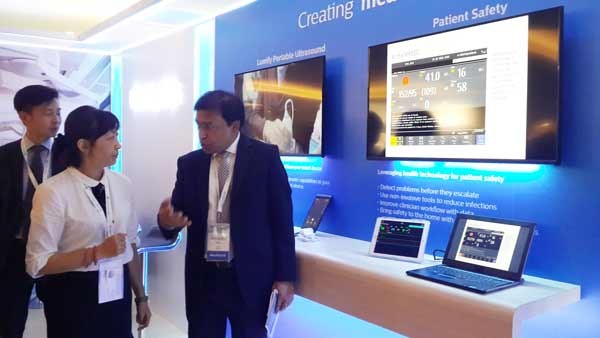 A representative from Philips Cor. introduces its products to customers at the meeting (Photo: SGGP)
Accordingly, the corporation will provide diagnosis methodologies and precise treatment as well as promise to supply new technologies  in medicine field to satisfy all healthcare demands of Vietnamese people.

General manager of Philips in the Southeast Asian region Johan Vooren stressed that Vietnam is one of the nations with large number of senior people, accounting 9.5  million old people.
It is estimate that by 2050, the number of people aged 60 will three fold to 32 million people , accounting for 30 percent of the whole country's population.
Accordingly, medical system is under great pressure with the ratio of doctors and residents being 1.19 doctors to 1,000 people. Escalating cases of non-communicative diseases  also contributes to more burden for the health system. These diseases are leading causes of deaths in Vietnam with the mortality rate of 23.9 percent.