In an urgent dispatch on Monday, Prime Minister Dung of Vietnam asked provincial authorities and relevant agencies to arrest the spread of the bird flu epidemic, foot-and-mouth disease and blue-ear in cattle.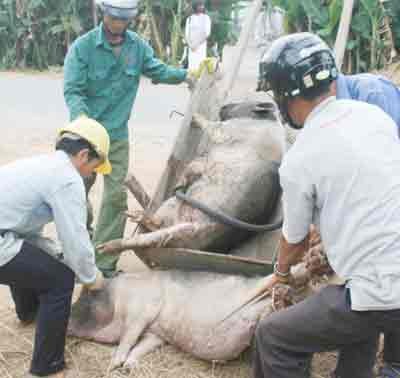 Vets kill diseased pigs inthe central province of Quang Nam (Photo: SGGP)
The dispatch clearly states that control measures must be considered important in the affected districts while in the not affected areas strict preventative measures must be adopted.
The dispatch decrees that when the government publicly announces its discovery of an outbreak, it should also keep a close watch on transportation and sale of water-fowls from the affected regions.
The dispatch also elaborates that the Ministry of Agriculture and Rural Development (MARD) must set up inspection teams to conduct prevention missions and give a timely report to the PM.
Relevant agencies have also been ordered to provide vaccine and disinfectants to provinces and stockpile enough drugs for future use. The Ministry of Finance and MARD will also consider expenditure for preventive forces.
Since the number of people reported positive for the avian flu and swine flu has soared recently, the PM ordered MARD to coordinate with the Ministry of Health to control the disease.
In the central province of Quang Nam, hundreds of cattle and thousands of poultry died suddenly. Nguyen Thanh Quang, director of the Department of Agriculture and Rural Development in the Province said that between January 1 to March 14, 13 districts have reported more than 1,400 cattle suffering from foot-and-mouth disease of which  around 943 cattle have already died. Consequently the province publicly announced an epidemic of the disease on March 9.
According to Quang, the lackadaisical behavior of vets is the culprit behind the spread of the disease.