Prime Minister Nguyen Tan Dung on February 20 sent an urgent dispatch to all provincial authorities to step up measures and tighten supervision so as to prevent the spread of bird flu (H5N1) virus, which has reoccurred in Vietnam.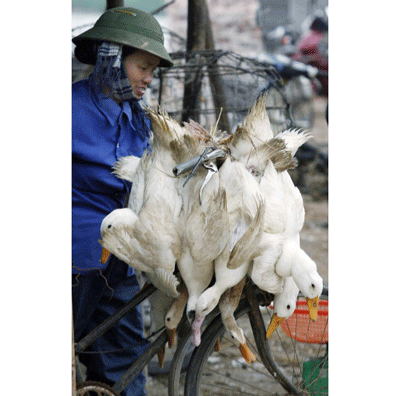 Bird flu (H5N1) virus reoccur in Vietnam (photo AFP)
The dispatch clearly states of the high risk of a fresh bird flu outbreak in Vietnam. Provincial People's Committees have been ordered to improve food hygiene, especially in slaughterhouses and processing units and constantly monitor bird flu cases so as to contain the infection.
Local authorities have been asked to closely cooperate with the Ministry of Health and the Steering Committee for Bird Flu Prevention to conduct timely action and keep the authorities briefed on all developments concerning spread of the virus.
The dispatch also states that the health minister monitor all infected cases and step up ways to reduce fatal deaths, provide sufficient disinfectant chemicals and necessary medical equipment to fight the disease.
Inspectors from the Ministry of Agriculture and Rural Development have arrived in provinces to supervise and monitor measures to contain the spread of the dreaded bird flu virus.
The People's Committee of the Mekong delta province of Dong Thap has ordered related agencies in its districts to implement appropriate measures, ask staff to work round-the-clock and set up a hotline to receive information of fresh outbreaks in the province.
Agricultural authorities' in Dong Thap Province must monitor closely all breeding farms, households maintaining indoor incubators, open bred water fowl and all markets selling poultry.
Meanwhile the Steering Committee for Bird Flu Prevention in the Mekong delta province of Ca Mau has instructed the department of animal health to spray disinfectant in farms most vulnerable to the infection.
Authorities in Ca Mau have made it mandatory for breeders owning more than 20 poultry to vaccinate, or else the government will not support them in event of losses.
Such as in the case of farmer Nguyen Van Den from An Xuyen Commune in Ca Mau City who lost 435 ducks enmasse, yet tests showed negative for H5N1 virus.
Meantime, the Department of Agriculture and Rural Development in the Mekong delta province of Bac Lieu said it has vaccinated 820,000 water fowl. Vinh Long province in Mekong delta also injected over 1.2 million ducks and 474,000 chickens.
Fearing a bird flu epidemic, the People's Committee in the central city of Da Nang has banned poultry imports and related products from affected provinces and cities.
The city will also tighten control of transport and slaughter of poultry by paying unscheduled visits to companies in the city.