As the bird flu has come back Viet Nam in two communes in Ca Mau and Bac Lieu provinces, Prime Minister Nguyen Tan Dung is asking state agencies nationwide to fight against the epidemic.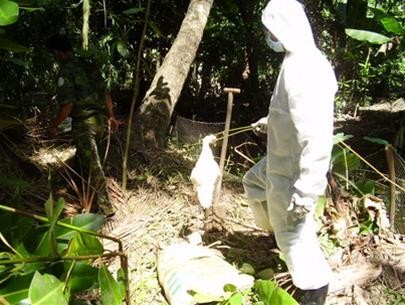 Veterinary forces need to sterilize the pandemic-infected areas
Viet Nam's leader said after a quiet year, bird flu is now happening in two communes of the southern-most Ca Mau and Bac Lieu provinces and there is high risk of disease spreading.
The state leader thus instructed chairmen of people's committees in districts and cities at all levels to strengthen their surveillance and anti-bird flu measures.
In addition, the governments have to concentrate on fighting the human pandemic and flu type A (H5N1). All inspection forces must undertake supervision to quickly discover outbreak at farming houses.
When there is dead poultry, samples must be inspected, and ill fowls in the infected areas must be culled and farms sterlized. At the same time, other measures must be carried out to fight against risk of endemic.
Mr. Dung ordered the responsible offices to conduct mass vaccination for chicken, including the unvaccinated and newly-hatched fowls in the highly-infected areas. He requested a close watch on transport, trade and slaughter of poultry and its products in cities and crowded areas in the country and in border-gate districts. Only safely inspected fowl are allowed to sell in markets.
The local budget is primarily used for the prevention of bird flu and compensation for farm owners whose poultry is culled.
The overall responsibility of fighting the pandemic will rest with chairmen of district and city people's committees.
Deputy Prime Minister Nguyen Sinh Hung Friday criticized the leaders of Ca Mau and Bac Lieu provinces for their neglect of the fight against bird flu at the national year-end meeting of fire prevention tasks in Ho Chi Minh City. Mr. Hung requested leaders of districts take prompt action to combat bird flu.
Related Articles:
Bird Flu Outbreak Due To Neglect
Bird Flu Found in Mekong Delta