With bird flu recurring in several countries in the region, Prime Minister Nguyen Tan Dung has told state agencies it is of the utmost importance to keep a close watch on the nation's borders to prevent poultry from being smuggled in.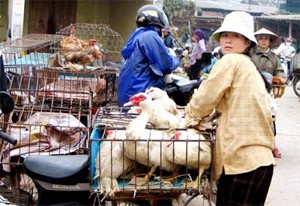 Border guards must police border crossing to prevent the import of poultry

In an urgent dispatch on Tuesday, Mr. Dung said veterinary and health officials, customs officers, border guards and such had to coordinate with local bird flu control boards to police border crossings, prevent the import of poultry and related products from countries affected by bird flu, and severely punish transgressors.
On the same day, Deputy Ministry of Agriculture and Rural Development Bui Ba Bong proposed that rewards be given for promptly reporting any case of bird flu.