Prime Minister Nguyen Tan Dung has called for strengthening measures at all levels to prevent human transmission of the H5N1 strain of bird flu.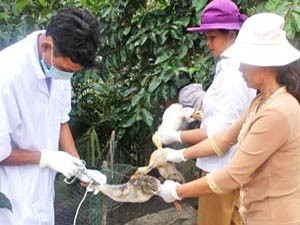 A health worker vaccinates ducks against bird flu in a Mekong Delta province (Photo: SGGP)
In a dispatch February 10, Mr. Dung told local authorities to educate the public, especially farmers, to strictly comply with instructions issued by the Ministry of Agriculture and Rural Development and other agencies to check bird flu.
The public must be told clearly about the danger posed by the disease and measures to tackle it, he said.
The dispatch also spells out the responsibility of local leaders and officials in the prevention of the disease.
Localities must announce any epidemic breakout and immediately take steps to control it, the PM said.
Consumption of diseased poultry must be strictly banned, he said.
He warned any breach of regulations in tacking the disease would be severely punished.
On February 10 around 1,000 ducks in Trieu An commune, Trieu Phong District, in the central province of Quang Tri, were culled after they were found to have bird flu, the Department of Animal Health reported.
A day earlier three more communes in the southern province of Hau Giang reported outbreaks, taking the total number of affected communes in the province to eight, the department said.
In Soc Trang Province, one more commune, Vinh Bien, has reported bird flu, with more than 1,000 fowls infected.
So far, six provinces have reported bird flu -- Quang Ninh, Quang Tri, Nghe An, Soc Trang, Hau Giang, and Ca Mau.