Prime Minister Nguyen Xuan Phuc and deputy PM Vu Duc Dam visited Long Biên wholesale vegetable market in Hanoi to inspect food safety yesterday morning.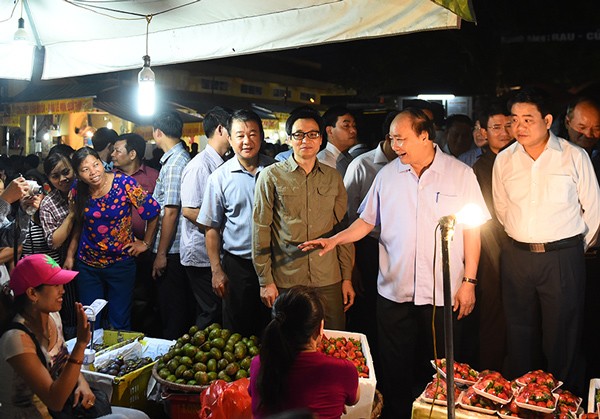 PM Nguyen Xuan Phuc ( R, 2 nd ) and Deputy PM Vu Duc Dam (R , 3rd ) tour the Long Bien wholesale market for food safety (Photo: SGGP)
The Long Biên wholesale vegetable market is the biggest market and commodities in the market are transported to other markets in Hanoi and neighboring provinces. Talking to assistants of several fruit kiosks at the market, the PM told them to sell fruits and vegetables with clear indication of origin and avoid these fruits that are infused with pesticides and unsafe growth stimulants, and those that were imported from unclear sources.
After visiting the market, the PM arrived at Van Duc Commune in Gia Lam District - an area popular for growing safe vegetables.

After the two visits, Mr. Phuc and his delegation had a meeting with People's Committee of Hanoi to discuss the food safety matter. The PM said that food safety is very important matter relating to people's health condition which accordingly receives much concern from the public.
He added that he had issued a directive No.13 , 2016 on the management responsibility on food safety including detailed assignment of each departments and individuals. The heads of local administrations must take responsibility for the field.

According to reports of People's Committee in Hanoi, the capital city is one of localities which early set up steering committee on food safety and chairman of the committee is the head of the steering committee. Hanoi strictly managed food safety following product chains and localities.
Moreover, vice chairpersons of district-level people's committees are required to examine the food safety situation every two weeks. Chairperson of communal-level people's committees must make at least one inspection tour every week.
Chairman of the Hanoi People's Committee Nguyen Duc Chung said that the municipal administration would receive five specialized cars as gifts from Vingroup for quick food testing at markets at the end of the year.
The PM lauded the inspection and management of food safety of Hanoi proposing to multiply the model in the country. However, the PM also pointed out some remaining in management of food safety especially in management of sidewalk eateries, flea markets and nutritional supplements.
One of remaining is illegal slaughterhouses, handicrafts and there has been no proper sanction for these.
Subsequently, the PM urged the capital administration to strictly monitor illegal slaughterhouses and street restaurants in the city. People's committee in districts and communes must be assigned more duties to keep an eye on these matters.
Additionally, street eateries must be handled to introduce Vietnamese food to holidaymakers. Thorough investigation and harsh penalties on violations of food safety must be imposed.
Along with this, increase information of safe food and unsafe food to residents as well as developing more store chains to provide safe food to people.