Addressing the National Steering Board for Bird Flu Control, PM Nguyen Tan Dung said close surveillance of the situation was imperative.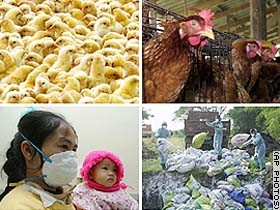 Awareness of bird flu should be raised to prevent the spread
The PM ordered importers to stop buying poultry from countries affected by bird flu and asked local authorities to be ever-vigilant against the smuggling of poultry from these countries.
Funding for the work would be forthcoming, he said.

Among several measures, the relevant ministries must broadcast any and all pertinent information in the media to raise the public's awareness of the danger.
If there is a fresh outbreak, quarantine must be implemented and affected poultry culled promptly to contain the disease to the immediate area.
Top priority goes to producing ventilators and medicine for district health centers and medical clinics providing treatment at the grassroots level.
The Ministry of Agriculture and Rural Development has not detected any outbreak of bird flu in poultry this year, nor have any human infections been reported.
Perhaps because the immediate threat seems to have retreated, the sale and culling of poultry are carried out without due control in some places, and several provinces have been careless with the fowl vaccination. It's this lackadaisical attitude that could well lead to a fresh outbreak of bird flu.