The Ministry of Health issued instructions yesterday outlining the format pharmaceutical companies must use to list the price of their drugs if they have changed them.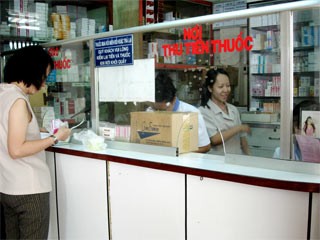 Listing the price of drugs will be monitored by health ministry and departments (Photo: U.Phuong)
To ensure that the instructions are being followed, an auditing team has been put together that will check the selling price on store shelves against the company's price list.
 
Companies to be monitored include those under the Viet Nam Pharmaceutical Company; foreign pharmaceutical enterprises distributed by Zuellig Pharma Viet Nam, Diethelm Viet Nam and Mega Viet Nam; foreign firms which are registered to market pharmaceuticals but don't have representative offices in Viet Nam and foreign-invested companies.
 
All others will be monitored by provincial and/or municipal health departments.
Related article:
Medicine Prices Under Inspection in Ha Noi, Ho Chi Minh City